COVID-19 travel updates for international students
Effective as of December 2021
Stay updated on the latest COVID-19 announcements:
Hanson College is offering complimentary airport pick-up service to get you from Toronto Pearson Airport to your final destination safely.
To register for your complimentary airport pick-up service, please complete the Settlement Services Application Form with limited accommodations upon request.
Don't forget to download your Confirmation of Registration Letter from your myCambrian account by following the instructions below:
Login to the myCambrian portal
Go to the "Important Links" section
Click on the Hanson Student tab and login
Scroll down and click on Confirmation of Registration Letter – Winter 2022
Make sure you have this ready and accessible before travelling
Latest announcement from the Government of Canada:
There is a travel ban in the following Southern African countries: South Africa, Mozambique, Namibia, Zimbabwe, Botswana, Lesotho, Eswatini, Egypt, Malawi, and Nigeria to prevent the spread of the OMICRON COVID-19 variant.
Fully vaccinated travellers who have been in any country other than Canada and the United States in the 14 days prior to entry to Canada must take a COVID-19 test and quarantine in a suitable place until they receive a negative test result back.
You can use this guide to help you develop a suitable quarantine plan to enter Canada.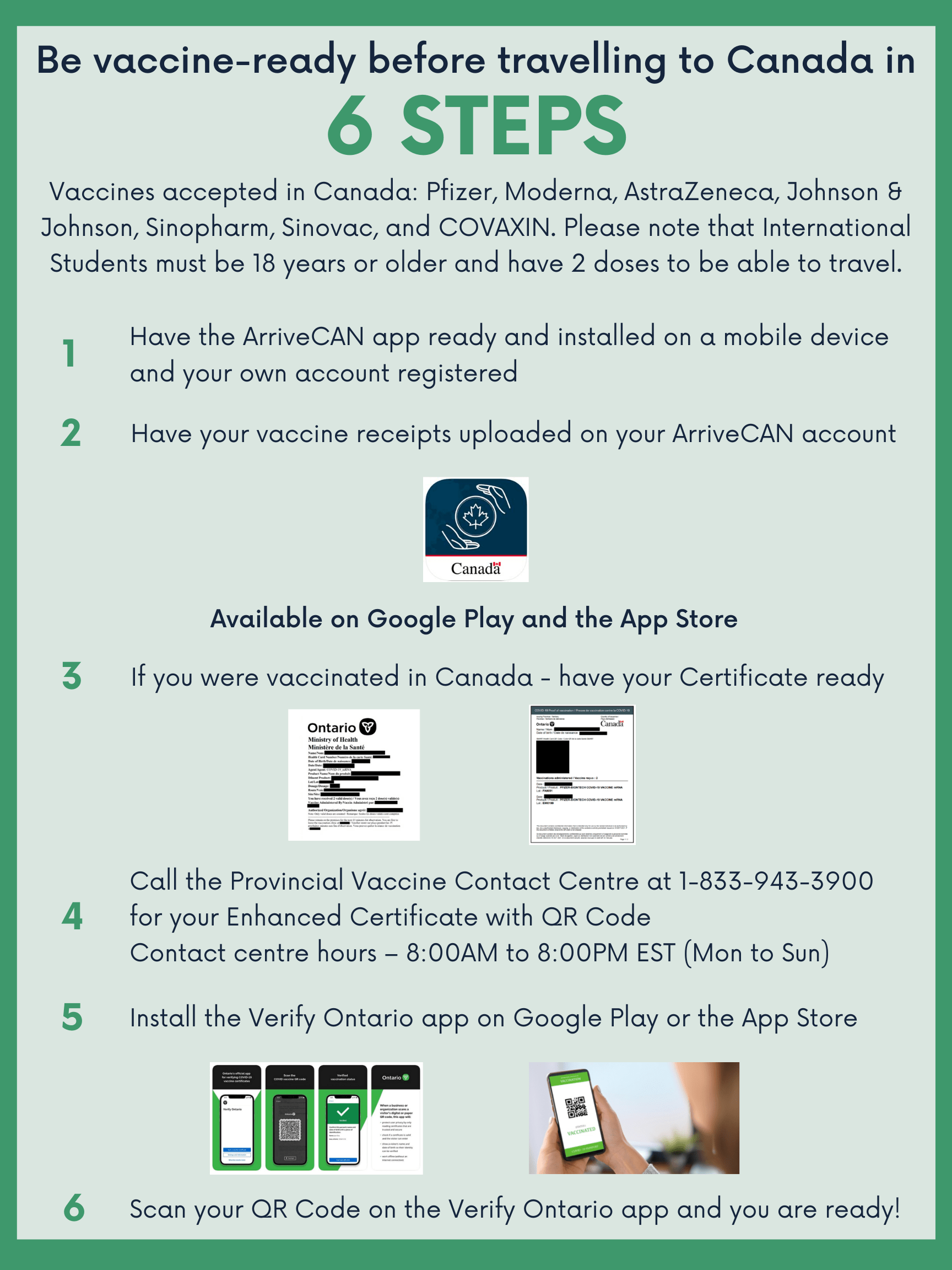 Your "Proof of Vaccination" when entering Canada:
As of January 15, 2022, International Students will only be allowed entry to Canada if they are:
18+ years old
Have at least 2 doses of a Canada-approved vaccine or
A mix of 2 Canada-approved vaccines
If you were vaccinated with 2 doses outside of Canada:
Register on ArriveCAN prior to travelling to Canada
Sign in to ArriveCAN once you have successfully registered
Upload your vaccination receipts on your account
Watch a step-by-step guide on how to use ArriveCAN here
ArriveCAN is available for download on Google Play and the App Store
Government of Canada-approved vaccines when travelling to Canada:
Pfizer-BioNTech
Moderna
AstraZeneca
Johnson & Johnson
Sinopharm (as of November 30, 2021)
Sinovac (as of November 30, 2021)
COVAXIN (as of November 30, 2021)
If you were vaccinated with 2 doses in Canada:
You should have received an Ontario Ministry of Health Certificate:
To acquire your Enhanced Proof of Vaccination with QR Code:

Call the Provincial Vaccine Contact Centre at 1-833-943-3900
Contact centre hours – 8:00AM to 8:00PM EST (Monday to Sunday)

When you have your Enhanced Proof of Vaccination with QR Code:
Download the Verify Ontario App (available on Google Play and the App Store)
Open the app and scan the QR Code on your Enhanced Proof of Vaccination
The Verify Ontario App will show a verification that you are fully vaccinated
Travel Advice and Advisories:
Destination-specific travel information with important advice to help you make informed decisions. This information will help you travel safely while you are abroad.
Study Permit and Work Permit Guides:
CLICK HERE TO CHECK YOUR APPLICATION'S PROCESSING TIME
Job Search Resources:
Residence Search Resources:
If you have any questions or concerns – please reach out to our Settlement Services Team: settlementservicesont@hansoncollege.com