Career Development Opportunities
Throughout your studies, students have access to Hanson's Co-op, Career Services and more
As a Hanson Alumni, you retain access to Hanson's Co-op and Career Services department as we are invested in your long term success.
You will find resources within this section that help you with developing a resume, improving your interviewing skills, career planning, and more.
Hanson of Business, Health & Technology is proud to work with specialist employment agencies and temporary recruitment agencies that provide support to students.
WCG Employment Ontario – Employment Support for students residing or willing to work in Peel Region of Ontario.  
Hanson are collaborating with WCG Employment Ontario in Brampton to provide support to our graduates after you have completed your studies.
WCG is a free service to Hanson students, however, you:
MUST have a valid PGWP (with at least 1 year remaining)
MUST either live or be willing to work in the Peel Region (Brampton, Mississauga, Caledon).
Please click here to register for Employment Support. A WCG Services Employment Consultant will then organize an appointment with you to begin your journey with WCG.
WCG will assign you an Employment Counsellor who will help you:
Develop your resume
Understand what work roles you may be interested in
Assist you in finding work to build the skills and experience you need as you begin your career in Canada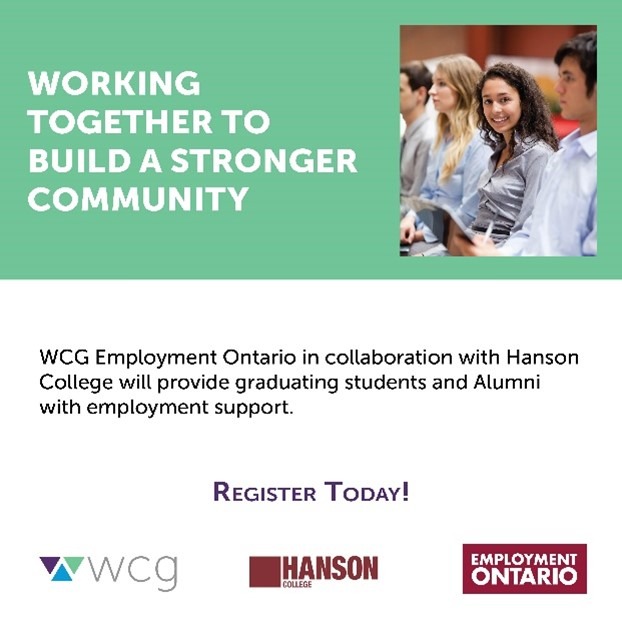 Find everything you need to know about before, during and after your job interview. Here are our best tips for answering interview questions
How to write a Cover Letter
How to write a cover letter that gets you the job How to write a cover letter that gets you the job
This resume workshop provides detailed explanations, as well step-by-step processes, for creating an effective resume
How to format your Resume
How to pick the best resume format to make sure your application stands out? Learn from our handy guide on resume formatting
Resume Target: Resume Review
Hanson in collaboration with Resume Target presents up to 5 free resume templates for students
Our Comprehensive Guide to Getting Started on LinkedIn. Tips on how to set up your profile & boost your professional network
Full time employment opportunities exclusively offered to Hanson alumni.
To enter this site, review your Alumni Welcome email or contact Alumni Support at alumniassociation@hansoncollege.com
As an employee, you have several protections in the workplace to ensure that you are being treated fairly and that your employer is following the relevant employment laws, health & safety policies, harassment, and bullying policies.
In this section you will find resources and contact information for agencies that specialise in supporting workers understand their rights.
Supporting Hanson Students & Alumni
If you are happy to refer any current students or current alumni into your workplace for co-op/placement/part time employment/full time employment, please provide your details here.
If your manager/company would be interested in working with Hanson's Co-op and Career Services, we would ask that they also fill out the Employer Referral Form, and a member of Hanson's Co-op and Career Services will be in touch.