Cambrian at Hanson selected 21 of its best students from the Toronto and Brampton campuses to attend the fifth anniversary of the college's participation in the Rotman Interactive Trader (RIT) Session competition.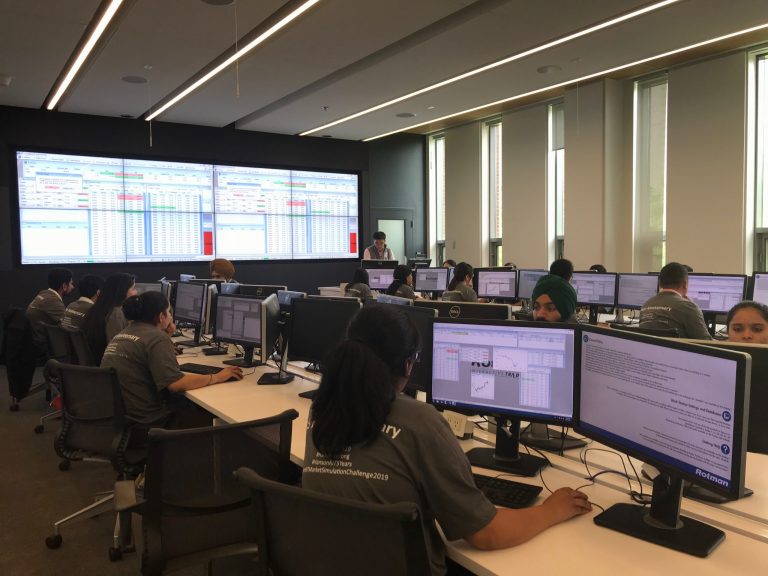 Continuing the tradition of providing students with the best opportunities both on and off campus, students had the exclusive opportunity to participate in a unique simulated market challenge and various activities including electronic trading cases and seminars with industry practitioners at University of Toronto's BMO Financial Group Finance Research and Trading Lab at the Rotman School of Management.
Welcomed by Hanson's Regional Director of Ontario Campuses, Manny Bassi, students were introduced to the event as a platform for demonstrating their limitless potential, providing them with exposure to future job opportunities and experiences that they could include on their resumes. After receiving expert knowledge of the buying and selling of stocks from lab instructors and industry professionals, students were encouraged to put their expertise to the test. The objective was for students to make trades in order to make a profitable return from the original purchase price. The winner of the competition, Kanika Bansal, earned a significant $156,180 during the last simulation of the event, and averaged a profit of $129,582.5? throughout her simulations. In addition to receiving a Certificate of Achievement, Kanika also received an iPad mini prize from Hanson.
As a leader in collaborative education, Cambrian at Hanson believes that learning through simulations allows students to make real-time decisions on their own by applying the theories that they've learned about. This practical experience offers a unique opportunity to Cambrian at Hanson's students, providing real-world business scenarios in the trading environment and allowing them to validate their education in a friendly inter-campus competition.
Additional links:
http://financelab.rotman.utoronto.ca/
http://www.rotman.utoronto.ca/